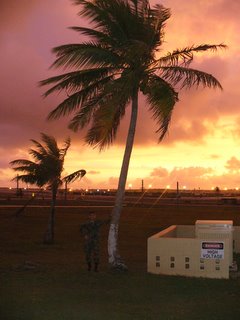 I thought this picture was pretty neat. Nathan was on a short TDY (temporary duty) to Guam last month, and had one of his co-workers snap his picture. It's a bit dark, so you can't really see him very well against the palm tree, but I'm sure y'all are more interested in the sky! LOL :o) I think that's the sun
rising
, but I can't quite remember... it might have been
setting
(he was working some strange shift hours that week).
Speaking of crazy work schedules, Nathan has had 12-hour work days all this week. It wouldn't be that big of a deal if it were for an actual reason... an exercise, inspection, or something along those lines. Right now, though, things have gotten a bit hectic at work for my hubby, and he's been very stressed out with the entire situation. If any of you think about it, please pray that the situation with Nathan's shop will soon be resolved, as morale is very low with the entire group. :o( It has been a crazy time with all of the supervisors coming down very hard on him and the shop for many little things; they are struggling with trying to get their work done in a timely manner, as they are interrupted quite often.
Growing up in church, I always knew that once a couple married, they were no longer two people -- but rather, they became one. I knew that; it was a given. Logically (in my mind) I understood how it was supposed to work. I guess I just wasn't prepared
emotionally
for what exactly that phrase meant. In the past year I've discovered that being one means when he is hurting, it hurts me, too; when he is upset, I get upset along with him; when he is stressed with work, I feel that stress, too.
Early in our marriage (okay, so we're technically still in the early stages of marriage, lol. You know what I'm trying to say, right?), it was hard for me not to become snippy or sulky when he came home grumpy after work. After being home alone all day (just me and our kitty), I would be excited for him to get off of work, and expected him to be just as excited to see me. I soon discovered that, although he was happy to see me, he wasn't ready to be as perky like I was. He needed his time to unwind, relax for a minute, and just breathe. Now I've learned to meet him at the door with a big hug and kiss, help him hang his hat and keys, prepare his dinner plate, pour him an ice-cold drink, rub his shoulders, and just listen. Things go much smoother when I remember that men are different from women (how I could forget that, I have no idea!); he's not my girlfriend who wants to chatter all the time. ;o) He's my husband who needs a few minutes of space sometimes... and
then
I can chatter with him, hehehe :P I know the Bible tells husbands to dwell with their wives according to knowledge, but I think we wives would benefit if we practiced the same principle with our husbands. :o) Praise the Lord that I have such a wonderful, patient husband who loves me in spite of my shortcomings! :P